Sidney Carter has been a professional artist for the past 20 years.  The youngest of nine brothers and sisters, two of Sidney's brothers who are also artists led the way for creative development by teaching him at a young age.  With a belief that the Creator gifted him with a natural talent, Sidney honors that gift with a fierce commitment and dedication.  Rising early every morning to paint, each day brings new inspiration.  
There are many people of notariety who collect Sidney's artwork, including:
Babyface

Alonzo Morning, NBA Player

Dorian Haywood

Spike Lee

Jerry Reese, NY Giants SVP & General Mgr.

Tra Thomas, NFL

John Jacob, Former Natl Urban League Pres.

Robert Billingslea, Walt Disney

Dr. Norton Baker, Orthopedic Surgeon, Orlando

Univ of Maryland, College – Mural Commission
Artist's Statement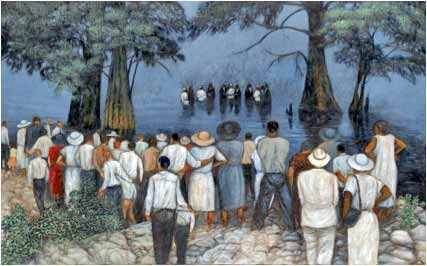 I am one that is always searching.  Continually learning.  Art is living. To me art is in everything you do.  The color and aromas in cooking.  The organic textures and smells in gardening–anyone that comes to know me is aware that I enjoy both.  Art is in loving and helping people.  My compositions savor heritage, family life, the human spirit.  My subjects are a testament that love is alive.  There is a rich rhythm in everyday life.  Whether realism or abstraction, I want my paintings to emanate that rhythm.  I want my compositions to explode with brilliant color and form, but maybe offer petite, tender proportion.  I try to offer themes that speak to a diverse group of people, and my goal is to delight and stir.
I am both a black artist, and fine artist.  I sense my commitment to this self definition will stretch me to paramount heights in this new decade.  You can look for a continuation of my signature art styles–cubism, music abstracts.  But look at the world today.  The year 2050 will be upon us in the blink of an eye.  Look at civil rights in our own nation, and unrest across the globe.  As I travel and take in new scenes, you can also expect the 'unexpected.'  That will mean everything from experimenting with achieving perspective in a new style.  I might juxtapose aquas and gold–orange, plum and fuchsia.
It can be said that a book is a conversation between the author and reader.  I would offer that a painting evokes a silent, internal dialogue between viewer and artist.  As long as my paintings evoke emotions for the mother, wife, father, couple, business executive–even the romantic junkie, and as long as I support and mentor the new creatives, then maybe I can pass into the full potentiality of what it means to be a master.
Sidney Carter
Contemporary Black American Fine Artist
Atlanta, Georgia
Jan 2011
Here is a video with me in my home art gallery. Enjoy the virtual tour.
REQUESTS FOR ART VENDING:
Please allow enough lead time for image development prior to your event.  Designers and curators may contact me at: [email protected]
If you are interested in purchasing artwork, and to arrange for shipping, please call 404.405.7511.  Thank you for visiting our website.
Fine Art for Collector Enthusiasts Everywhere
Sidney's Creations
SIDNEY CARTER FINE ART GALLERY
3814 New Macland Road  |  Powder Springs, GA 30127